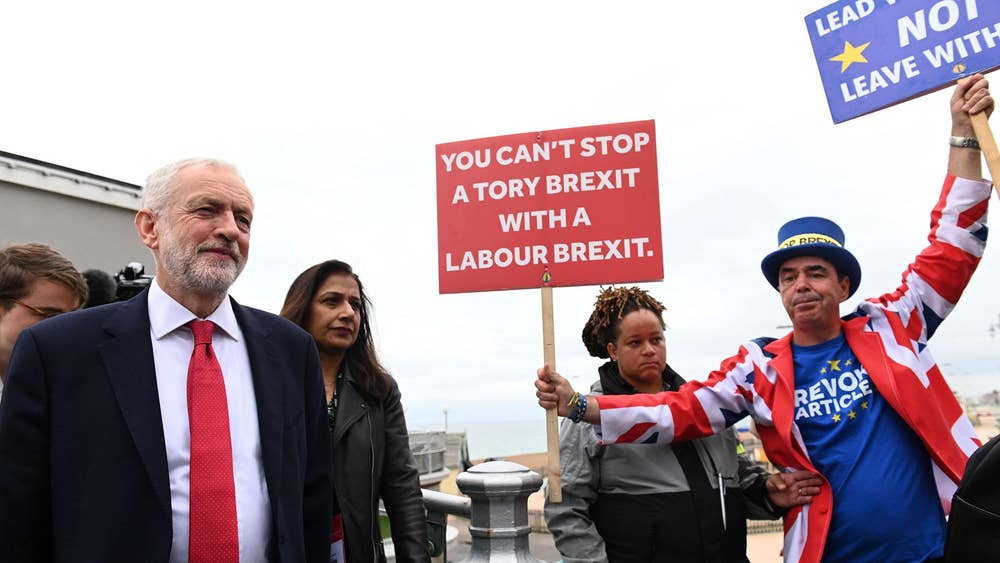 The Labour Party has just decided, in advance of the general election that cannot be far off, that it won't tell those who might think of voting for it whether, on the big issue of our time, it is in favour of Brexit or against it.  It wants instead to unite the nation around the belief that this is so unimportant that you don't really need to know.
According to its leader Brexit might, or might not, be better than Remain, although if you believe what he says about his ability to strike a 'credible' deal, that might indicate to you that your support for Labour will result in support for Brexit.
Or, if Johnson decides to go for a deal that the EU will accept, it might well mean that Labour will support that deal instead. Perhaps by allowing it to pass through parliament so it can then be opposed by way of referendum, if it gets one?  Not very consistent and not very principled, but since when have these qualities ever contaminated Labour's position on Brexit since the referendum?
The Party says it 'respects' the 2016 referendum result.  Any deal would undoubtedly involve a transition period within which future arrangements would be determined, so that the Labour Party could perhaps claim to have another opportunity to negotiate its own Brexit final arrangements.
After all, a Johnson deal would not be far from the Theresa May deal and the Party spent long enough before deciding not to support it.  Forced in the future by any parliamentary majority in support of such a deal the Party would be compelled to stop playing games and might find it hard not to continue 'respecting' the referendum result and allow the Tories to have their Brexit.
There is therefore absolutely no reason why the absurd position Labour has concocted should not throw up further absurdities, already its competitors in the opposition are picking apart the corpse of Labour's non-opposition to Brexit.
But of course all this means that the real position of the Party is not to remain neutral but to continue to see how a 'good' Brexit could be obtained.  Not that this matters.
The Labour leadership wants its members and supporters to continue to play the role of mushrooms and to forget that with this policy it received less than 15% of the vote in the European elections. It wants everyone to forget about being out-polled by the Liberal Democrats for the first time since 1910, a party on the way out just before; forget that it failed to win a majority in 2017 with 40% of the vote but has only around two-thirds of that support now in one opinion poll after another.
So, it doesn't matter because Labour will go into the election with a dishonest position, that makes no sense even on its own terms; that has proved a failure in the European and local elections; that is opposed by the vast majority of its members and big majority of its supporters, and that will most certainly lead to defeat.
Worst of all, its true position – support for Brexit – is a reactionary policy that will condemn workers in Britain and the North of Ireland to severe attacks on their living standards and democratic rights.
Socialists cannot support such a policy and such a perspective.  All other Labour promises mean nothing in light of it since the economic decline that Brexit will cause will rule them out anyway.  Brexit as a Tory policy will be delivered as a Tory policy by its authors.
From now on the Labour leadership can promise no more than defeat and trailing after the agenda-setting Tories.  All the anti-Tory invective and promises of a Labour transformation are now meaningless.  Rarely has opportunism been so inopportune.  So why is this?
Undoubtedly much of the Labour leadership such as McDonnell knows that the policy is a disaster – the evidence is too obvious to ignore, but they cling to Corbyn because the union bureaucrats cling to him.  They in turn aren't interested in transformation but only in having a friendly state bureaucracy with which to cut deals, which requires a Labour Government. The failure of the Corbyn project to democratise the party means that these leadership figures have no base outside of him, which is unfortunate since he has just shit all over it so he won't have one soon either.
The apparatus around Corbyn is Stalinist and believes in a purely national road to what it calls socialism but which has just exhibited what this really means by the vote at the conference. First Corbyn explains the new Brexit policy on the Andrew Marr show; then screws up getting rid of one Blairite Deputy Leader; then cobbles an NEC decision and conference resolution without a meeting and discussion; and then doesn't bother to properly count the vote in the conference before it trumpets success over the membership.
For some, this type of politics is just a variety of socialism, a difference in approach among various others, but once again Stalinism has proved itself to have nothing to do with socialism.  Stalin thought control of the apparatus of the Soviet State would ensure perpetual rule of his degenerate system and history has given its verdict on that.  As I noted in my last post on this, Corbyn and his Stalinist coterie believe that a Corbyn Labour Party can be assured, not by democratising the Party, but by a Corbyn apparatus.  This idea will go the same way as the Soviet Union, only much more quickly.
At such times it would seem appropriate to make a call for 'pessimism of the intellect, optimism of the will' but it's necessary to be clear what this means.  "Pessimism of the intellect' – don't recoil from the conclusions to be drawn from Corbyn's failure – 'Love Corbyn, Hate Brexit' – makes no sense at all, and would be a case of what is now called cognitive dissonance. "Optimism of the Will" – don't recoil from acting on this conclusion by breaking from Corbyn and creating firmer ground for socialists inside and outside the Party.
The Labour conference has shown there is plenty of room in politics for duplicity, insincerity and underhandedness.  What there isn't room for is stupidity, which means there is no room for Corbyn's Brexit policy and no room for him.